Looking for a few solid, must-do steps to build traffic, attract customers, and rank higher in Google? Something with concrete examples (hello, screenshots!) so you know how to do it yourself? Well, friend. You found it. Your business can earn standout status with three DIY SEO basics. In a single afternoon.
Disclaimer: Yes. You can do the work that will help you rank higher in one afternoon. Maybe you'll split it up to two. But truly, if you know your address or business locations and you can type an error-free sentence or two, you can make these changes yourself. But here's the thing, when you take a website experience that is lackluster and then make it shine-bright-like-a-diamond — Google needs time to catch-up with you. So don't delay, make these changes ASAP!
Easy Breezy Access.
Do you have a must-have travel item? Maybe your iPad or headphones for a long flight. When traveling out of the country, mine is four ziplock baggies with full-color copies of my passport and travel documents. I stuff a baggie inside the crevice of every suitcase or small bag I carry with me. I even leave a set at home with family. Why? Because at the end of a crazy-long trip, I want a US Customs agent to say my two favorite words, "Welcome Home!" So I figure if/when something gets lost, stolen (or soaking wet on a safari), I'll have copies when they start to question (read: interrogate) me.
You have valuable website information to prove who you are too. You might call them your services, contact, or about page and they're often kept in the main header or footer of your site. And that's a good start. But in order to rank higher in Google and build local traffic, we've got to treat our ultra-important pages on our website like I treat my travel documents — ditch the ziploc but make them accessible!
How do you do that? (Without looking desperate?)
Begin by re-reading the six key pages of your website. Consider your reader doing the same. But they're reading while they're at work, or on the train, or distracted by their toddler who just wants to steal their phone. You only have their attention for a few seconds, minutes at best!
Are you prompting them to take the next step, to learn more, contact you or schedule an appointment? You would if they were standing in front of your store or office. You would say things like, "come on in, can we help, do you want to schedule time with our team?"
Decide which links or call-to-action buttons can help them take the next step, whatever that step is! Maybe it's to 'dig deeper' or 'download something crazy helpful.' Treat it like a conversation.
For example, when I go to pay for my haircut (and yes, I mean a cut-and-color) they ask me at the desk, 'do you want to 'schedule an appointment'. I bet your team has similar phrases they say every day. What are they? Would it be a natural fit to include them on your site? Add a button or link to that section! If someone is learning more about you or your offering, it makes sense to offer an opportunity to meet with you. Start linking to these important pages inside your blog posts, informational pages, and product/services pages. Businesses that do consistently see a lift in their ranks for maps and organic traffic by making this one adjustment.  Even if it deserves to be in three places on the page. After all, they've got a train stop and a toddler to wrestle for their phone.
Tag Team Your Title Tags
I think reading the word 'title tags' can scare some of my favorite readers. But stay with me, I have an example. The last time you met someone for coffee or dinner, how did you two end up at the same place? One of you decided on a spot and you told the other where you would be. Maybe you wrote them an email, sent a calendar invite, or a text, maybe you chatted on the phone. 
Google needs to know where you are too. But Google doesn't want a call or text, you'll need to use a title tag too.
Your title tags show up in three places. You'll see it large-and-in-charge on your search engine results pages (or SERPs for short), your browser tab, andmost social networking sites.
To update it, login to your website editor and brainstorm how to include your location such as your city/town, neighborhood, state, or however people search for your area.  If local or nearby customers matter to your website or physical location, then I promise this is the easiest web edit with the biggest payoff.
A few title tag examples so you'll know what it looks like when you've got it right.
I remember being confused on how or why my husband booked 312 Chicago for a date night. We've both worked near that restaurant for years. I've had lunch there, but I wouldn't have thought of it for a night out. Turns out he googled 'restaurants near Chicago Theater', scrolled past several blogs and chose it because they had "Theater District" in their title tag. He figured it would be a short walk to the show. Smart move for them. A scrumptious move for us! (I'm still trying to duplicate a recipe at home.)


I wondered if businesses who have locations (restaurants), on-the-go services (remodelers) or locations with products (boutiques) have title tag stuff figured out. Is there a clear winner?
In my search results, the restaurant just above 312 Chicago is called, The Dearborn Tavern. But they didn't use the prime real estate space after their name. No descriptor. They didn't say something clever or helpful. Not even the easy choice: 'Chicago'. Without that indicator, it was easy for Kyle (my hubby) to sail right past it. Their meta-description does a good job with location– if I'm looking for Dearborn and Randolph. But they lose someone who is looking for date-night-food-for-two, not 225 people. (More on meta descriptions in another post.)


Clothing Boutiques were up next. Like restaurants, I know they value shoppers who are nearby. It looks like they have some good finds too! But I wonder, could they make a one-word edit and be found by more than the locals and passersby? If you shop with them, tell them there's a one-word answer to improve their search results. Maybe they'll hug you and offer you a discount? Here's a couple of ideas they could try. See that,  they could use Chicago or they could go ultra-local by naming their neighborhood.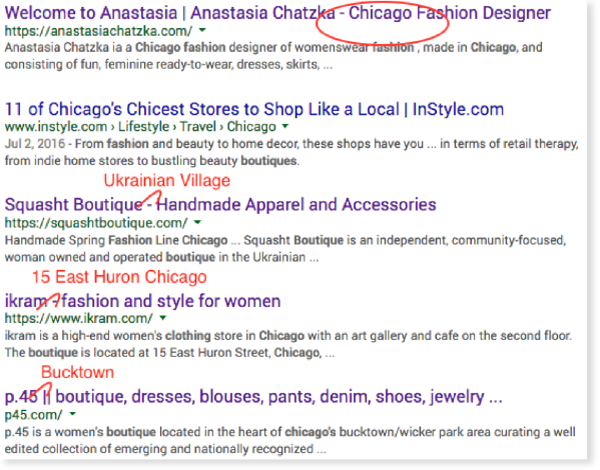 Remodelers, on the other hand, have this figured out! Check out Maya Construction Group they ranked ABOVE the review sites – no easy feat for teams who swing a hammer and not a laptop. This is an industry that knows how to show up locally for their prospective customers.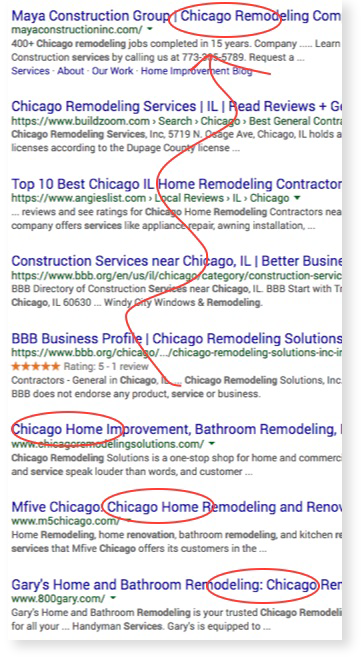 Every editing dashboard is different, but if you update the page title, click save, and refresh your website you'll see the update on your web browser tab. If you're stuck in your editor, comment below. I'll help!
Free Gets Even Better
Making your business visible with a variety of local (free) listings is helpful to local SEO (search engine optimization) which will build your traffic overall. I'm pretty sure everyone and their Mom's-Coffee-Shop has created a Google My Business profile by now. There are similar free business profiles on Bing and Yahoo too. So if you haven't yet, please follow those links, create your profile, and then jump back here for instructions to improve them. For the rest of my overachievers, follow those same links, login, and apply these two edits.
[Side note: While Google is most popular, Bing is the default search engine for new personal computers and Yahoo is used by millions of buyers too. So despite our personal preferences, (I heart Google, for example) you'll want to sign up for all three.]
Your first edit is to insert local keywords into your profile description.
For example, a bakery or dentist office have particular services they're known for. Let's say it's weddings and whitening, respectively. But how can you include your city, town or neighborhood to be relevant to your reader? Maybe it's, Chicago bakery known for our wedding cupcakes. Schedule your complimentary tasting. Or Chicago Loop dental office with 30-minute whitening treatment. Try us on your lunch break!
Your second edit is to update your profile with current photos.
Even if your place looks the same to you, a new angle, new sunlight, even an updated camera phone keeps things looking fresh and indicates signs of life to Google. Schedule time in your calendar to update with new photos 2-3x's a year. And after you update these listings, promote that you did on social media and ask for reviews. But anything new is new, so your customers won't rush to send in reviews. Which is why I leave you with one last edit.
This next one isn't a techy edit. It's a mindset edit. But it's just as critical.
Reviews are an essential way to boost your rankings and now that you have an updated listing, promote it, and ask for reviews. Share it your followers or get double-the-brownie points when you send a personal email to a list of your happy, repeat customers! That's the group proven to have the highest success rate. So go for the low hanging fruit. Plan to ask and follow-up with them at least three times. Having a mindset that says, 'I'll ask for reviews regularly' will push you to the top of any local list, but you'll want to ask your staff: how can your team ask and get more customer reviews? I'll have a couple of helpful ideas (and maybe a freebie) in an upcoming post.]
Google Pays Off!
These DIY steps are battle-tested tips to improve your SEO. How do I know? Because of all the updates Google (or any of the search engines makes), come from the best place — they want their users (your prospective customers) to have the best search.  So the edits I'm suggesting are ones that stay consistent: clear title tags, improve internal linking structure, improve the user experience. So hop to it! Carve out an afternoon to make progress that will pay off for months.
Each time I write a post for you, I think of three other ideas that I can't wait to share. What about you? Does reading this trigger other questions or ideas? Do you have a long list of marketing info you're searching for? Tell me in the comments below. Stuck in your website editor, tell me what editor and I'll point you to a great resource. (Or I'll make you a video. True story!)